Viber is a superapp platform that helps brands communicate with their clients in a more personal and engaging way. With a suite of messaging and advertising solutions, Viber is a perfect tool for brand marketers. One of the solutions is Viber Chatbots, computer programs that can mimic human conversation, and are designed to make it easy for users to interact with a service or product without having to go through the hassle of traditional customer service channels. Chatbots can help you take your consumer support, sales, and marketing to a new level, and can even be used to create custom applications for your business. Besides, with Viber Chatbots, you can track and analyze client interactions, getting valuable insights into customer behavior.
There are many benefits of using our bots for both brands and their audience. For businesses, they can help reduce customer support costs and speed up resolution times. Plus, they can be used to promote a product or service or provide information to people. Besides, Viber Chatbots can help you save time by automating tasks that would otherwise require human interaction. Overall, they are a great tool for improving customer satisfaction by providing a more efficient way for people to engage with your company. And for individual users, chatbots are a convenient choice to get quick answers to simple questions, or even just to have a conversation with their favorite brand.
Improve Your Business Communications With the Help of Viber Сhatbots
As your business grows, you will likely find yourself with more customers and more interactions to manage. This can be a happy problem to have, but a daunting task – and Viber Chatbots is designed to make it easier for you to keep track of conversations, customers, and leads. Chatbots can be used for a variety of purposes, and regardless of the type of business you have, there will be a great reason for you to add them to your toolbox. Here are a few tips on what our chatbots can be used for:
Automate Simple and Repetitive Processes
With Viber Chatbots, companies can simplify many of the client management processes, freeing up your team for more complex issues. It can be done at scale, reaching hundreds or thousands of people at once, which can especially help those who have limited staff resources. Viber Chatbots can increase the value of your customer interactions by providing a more convenient and efficient way to quickly and easily provide answers to common questions, address buyer concerns, and even promote your products or services. 
It's important to say that the quality of chatbots has improved dramatically over the past several years, all thanks to recent advances in Artificial Intelligence and Machine Learning. If in doubt, check some of the use cases or get in touch with one of our partners to request for a demo.
Increase client satisfaction and engagement
Viber Chatbots are an easy way for customers to get in touch with your business, without having to pick up the phone and wait for an available representative, or visit your website and search for a particular piece of information. Viber Chatbots can provide quick and easy access to information, respond to queries in real-time, and even automate tasks such as booking appointments or taking payments.
Chatbots can help save time and hassle for both you and your clientele, which will lead to better engagement and loyalty. Additionally, chatbots are great for collecting user feedback, questions and suggestions, and those insights can be used to optimize client experience even further.
In addition, chatbots can give consumer service representatives some extra time to focus on more complex issues, so they can help resolve such problems faster. 
Overall, chatbots can help improve the client experience by providing a more convenient and efficient way to get the information and support they need.
Viber Chatbots are a powerful tool that can help you drive more conversions. But how? Chatbots can be designed to help simplify the purchasing process by walking customers through the steps they need to take in order to complete a purchase. This kind of automation is essential in modern e-commerce as customers are more likely to abandon their shopping carts if they find the purchase process too complicated. By providing a convenient, quick way for your customers to interact with your business, you can make it easy for them to get the information they need and make purchases directing them to exactly what they are looking for. Plus, chatbots are active 24/7, so you can always be available to your clients, even when you're not in the office. If you're ready to take your sales to the next level, this is a great solution.
How To Create Your Own Viber Chatbot: 4 Simple Steps
As the world continues going digital, it is important for marketers to move with the times and adapt to new technologies. With the rise of chatbots and the popularity of Viber as a messaging app, it is a great opportunity to use both to their full potential. This way, you will always be steps ahead when it comes to marketing and customer support.
Creating your own Viber Chatbot is actually quite simple and only requires a few steps. 
Step 1. Think about what kind of bot you need.
Before you start developing it yourself or with external help of our Messaging Partners, you have to ask yourself what kind of chatbot you need. To make it easier for you, here are three main types of them: 
Basic chatbots: They are perfect for businesses that just need a simple way to communicate with their clients. Basic bots can handle things like customer service inquiries and information requests.
Advanced chatbots: They are a great choice for brands that need a more sophisticated approach to interacting with their audience. Such bots can handle things like reservations, bookings, and complex shopper inquiries.
Custom chatbots: Those are an ultimate option for companies that need a multifunctional solution. They can be built to handle any type of customer interaction you can imagine, with a lot of different settings and parameters to adjust.
Once you've decided on the type of bot you need, you'll want to select a template that matches its purpose. There are a lot of them to choose from, each with its own features, so the end result will depend on your business needs. 
Step 2. Set Up An Account.
Go to the Viber Admin panel and add all your essential information: name and avatar, unique URL, category and subcategory, as well as a couple of basic details about the bot. They are important because they will be the first thing that users see when they start a conversation with your brand. Be sure to choose a name that is easy to remember and an avatar that is easy to recognize. The opening message should be short and to the point. It should be something that will grab the user's attention and make them want to chat with you. 
Then, you will receive your individual access key (token), which will allow you to connect your chatbot to our Viber API. Once you have done so, you can then access the chatbot builder.
Step 3. Connect Your Bot to the Platform.
You can do this yourself using our Viber API guidelines or with the help of external developers. Use the token to connect the chatbot to the Viber API.
Step 4. Search, Share, and Promote.
Once your bot is ready, you need to launch it and make it available to the users. Get in touch with the Viber team to make it searchable and verified to increase its visibility, and don't forget to take advantage of our advertising solutions to extend your audience reach.
Get The Most Of Viber Chatbots: Best Tips
Chatbots can be a very valuable asset for businesses of all sizes. However, like all tools, Viber Chatbots need to be used correctly in order to be effective. Here are a few tips to help you get the most out of them:
Keep it Simple. When it comes to Viber Chatbots, less is definitely more. Keep your bot's design as simple as possible, so that users can easily understand and use it.
Create a clear and concise message. When creating your chatbot's message, make it short and to the point. This will help ensure that your customers understand what your chatbot is trying to say and that they don't get lost in long and confusing phrases.
Use strong calls to action. Your chatbot's texts should always include a call to action. This will encourage your customers to take the desired action, whether it's signing up for your mailing list, making a purchase, or anything else, or even simply continuing the conversation.
Include images and videos. Images and videos can be great to make your chatbot's message more engaging and visually appealing. They can also help to explain complex concepts more clearly.
Create a script for your chatbot. Creating a script for your chatbot will help you determine what kind of questions it should be able to answer, and how it should respond to various customer queries. This will ensure that your chatbot is able to provide the most relevant and accurate information to your customers.
Use data from your CRM. If you have a CRM system, you can use the data from it to help train your chatbot. This will help your chatbot understand your customer's needs and preferences better, and provide more relevant and personalized information.
Provide Value. Focus on value for your users. Whether it's helping them make a purchase, providing customer support, or delivering valuable content, make sure that your bot is delivering something of worth.
Test, Test, Test. Before you launch your chatbot, be sure to test it thoroughly. This includes testing the bot's functionality, dialogue, and overall user experience. Only launch your chatbot when you're confident that it's ready for prime time.
Businesses That Have Successfully Used Chatbots
If you're searching for inspiration, look no further than these case studies of brands that have successfully used chatbots to meet their goals and enhanced their. From customer service to sales and marketing, these companies have found them to be valuable assets in meeting their goals.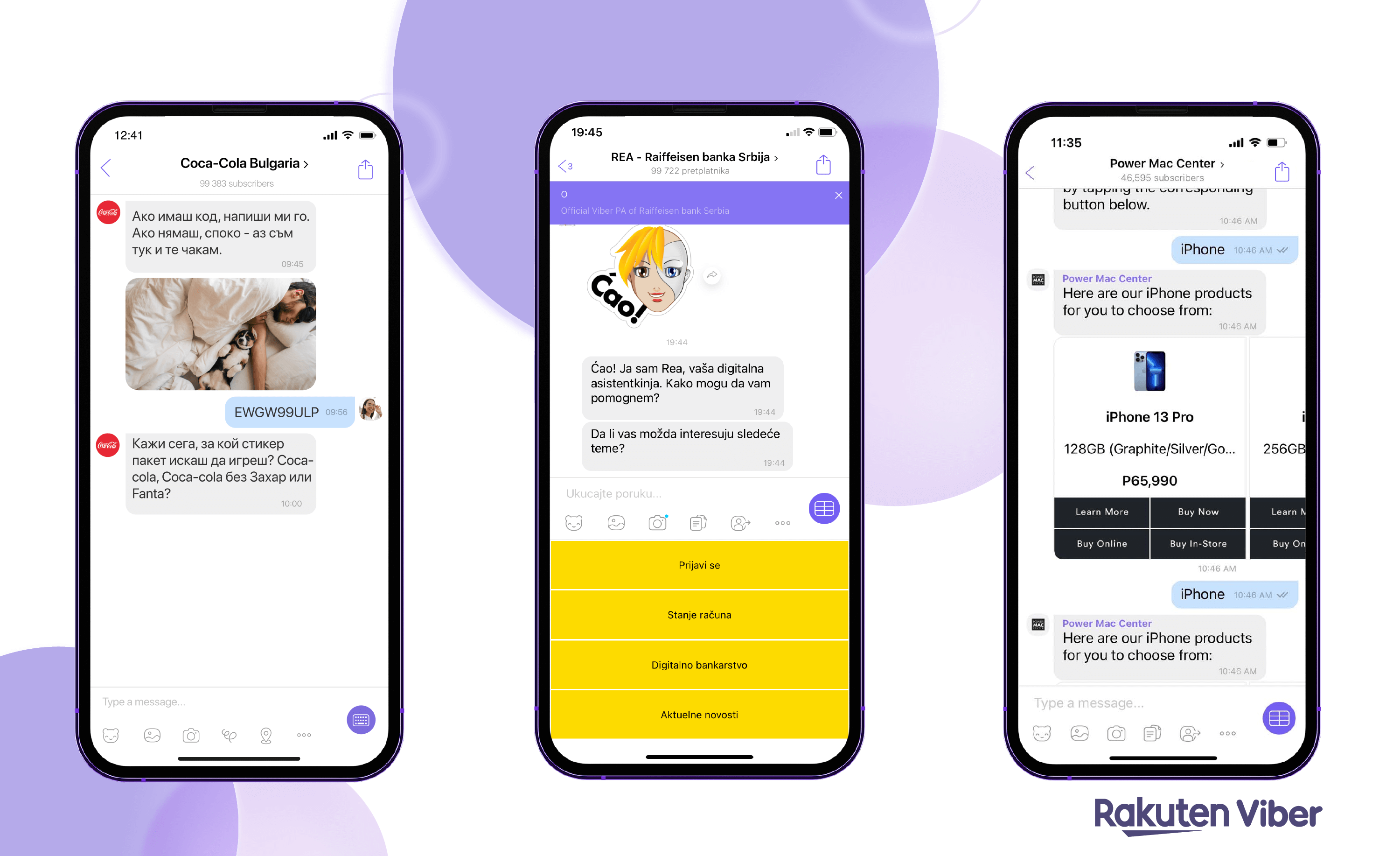 Chatbots: The Future Of Customer Service
As businesses increasingly search for tools to automate their client interactions, chatbots have become a popular option, and Viber has some of the best ones. Why? Because our chatbots are interactive, efficient, and easy to use. Plus, they're affordable and can be customized to fit your business needs. Our chatbots can handle a variety of tasks, including in-app purchases, answering client questions, providing product recommendations, and taking care of customer service issues. 
So, for a new way to reach and engage your audience, consider chatbots. And for the best chatbots out there, use Viber.