Launching a Rakuten Viber business account
Opening a Rakuten Viber business account is a great way to elevate your mobile marketing strategy. Rakuten Viber is one of the leading messaging apps today with users in 190 countries all over the world, with the average Rakuten Viber user is active and engaged, sending over 30 messages and launching the app 12 times daily. 
Defining your business aims is key before launching your business profile on Rakuten Viber. We offer two integration options for different company goals. You can choose to create a Rakuten Viber Chatbot if you want to get a new audience and stay in touch 24/7, or opt for Rakuten Viber Business Messages to work with your existing client database. Both integration options allow brands to reach their customers at each step of the customer journey. You can get in touch with your customers with order confirmations, delivery notifications and other transactional messages or update them with the latest products and promotional information. You will both provide better customer support and strengthen your two-way conversations. Once you have clarified your audience and goals, you are set to go further - here is your guide on how to launch a Rakuten Viber business account in three simple steps.
1. Choose the right messaging partner
If you want to use Rakuten Viber Business Messages to your advantage, you need a verified profile. Our trusted messaging partners worldwide will assist you in launching your Rakuten Viber business account and support you from the beginning till the end of your business journey with Rakuten Viber to make sure you are getting the best experience. You can choose a partner from the list of official Rakuten Viber partners to fit your country, industry, and aims and approach them directly, or you can also contact us and we will help to navigate you depending on your region and set goals.
2. Register your business account
Your chosen messaging partner will help you to set a Rakuten Viber business account - they will provide you with all the necessary details to register you quickly and easily. During this process, you will decide on your account name and logo to establish your Rakuten Viber business profile. You can share contact information, website URL, company profile and other relevant information in your official account, creating a mini-homepage for your customers. You tell your customers who you are and ways they can connect with you, then you can show you are a trusted brand and display information about your business. When Rakuten Viber verifies your brand, you will receive a unique ID and move one step closer to enjoying our business solutions.
3. Receive a blue tick and an official Rakuten Viber business account
In order to send official Business Messages, all companies are manually checked by Rakuten Viber. An official verified "business account" and "blue tick" will be granted once the brand accepts user privacy rules to ensure you are recognizable among customers. Your profile will display the information you have provided: logo, company description, website and contact information that users will see after pressing your brand name. 
Your first message info will be shared at a glance with overlay. An overlay appears on Rakuten Viber the first time you message customers - they see why they've received a message, who it is from and what it says. Companies utilising overlay on Rakuten Viber saw their block rates drop.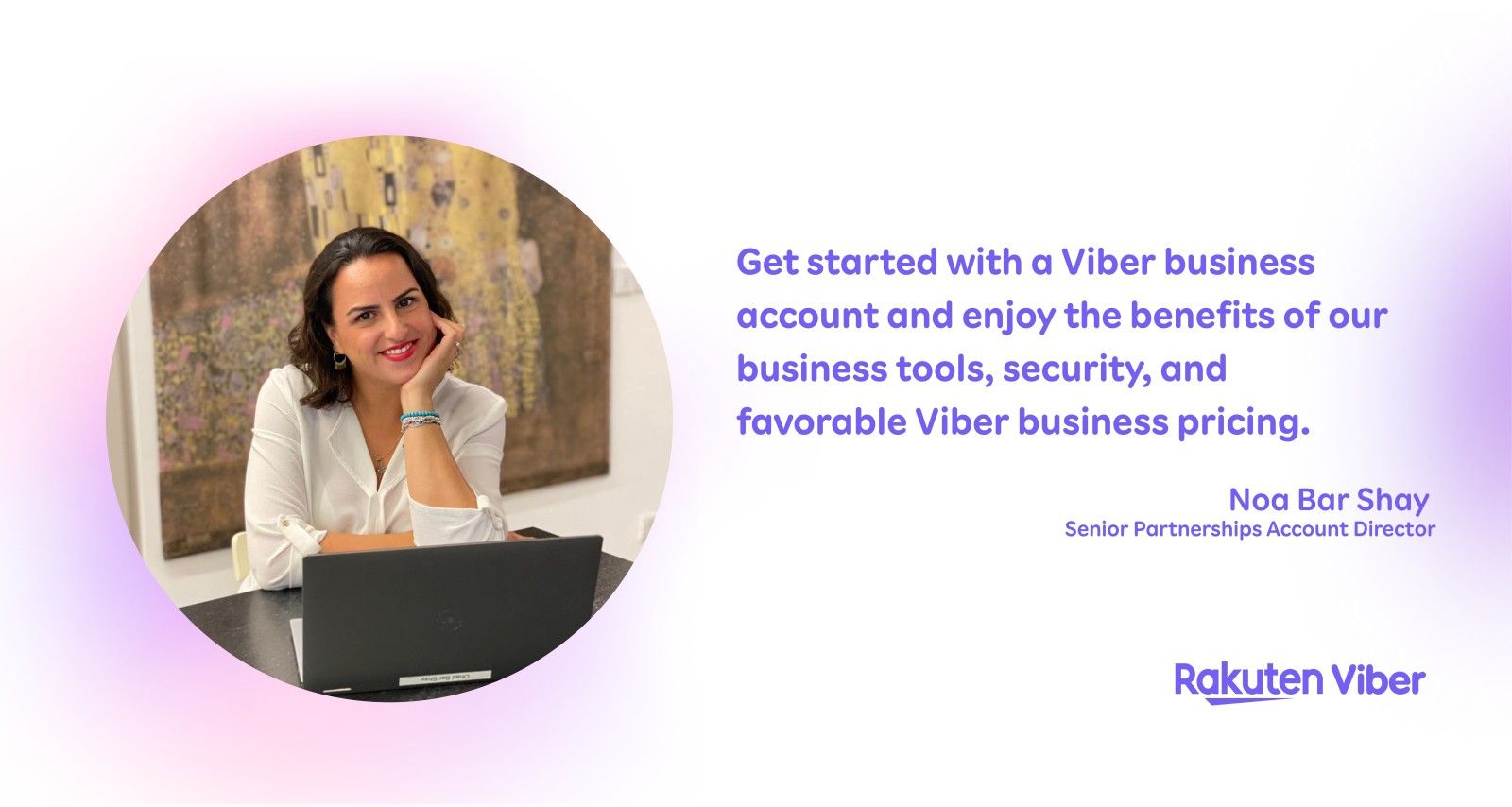 Start benefiting from Rakuten Viber Business Messages
Once you have an authorised business account with a blue tick, you can start communicating with your customers and benefiting from Rakuten Viber Business Messages:
Get real-time data on your messaging activity on Rakuten Viber - whether the messages were delivered, received, or failed, open and click rates. Discover how customers interact with your content, analyse their behaviour and adjust your mobile marketing strategy.
Send rich content messages with an image, CTA button, link or file. The message can contain up to 1000 characters.
Easily integrate Rakuten Viber Business Messages with your CRM system and personalise your messages according to predefined variables.
In case your clients do not have Internet access or are not registered on Rakuten Viber, with SMS fallback you can be sure that none of your customers will be left behind. SMS fallback ensures that your messages will be delivered via SMS if the delivery on Rakuten Viber fails.
Pay only for the messages that were delivered to your customers. Rakuten Viber doesn't charge you if the delivery failed and enables alternatives to reach your clients. You can also save money on undelivered messages by setting up TTL (Time To Live), a period of time when your message exists before being discarded. If the message was not delivered within your time limit, Rakuten Viber will not charge you for it. As a brand, you have nothing to lose, because your every message is cost-effective with Rakuten Viber business pricing.
Be confident in your security with Rakuten Viber Business Messages: Rakuten Viber is one of the most secure, if not the most secure, messaging app out there, providing all levels of security a user or a business needs to feel safe, whether it is personal chatting or interacting with businesses. It offers end-to-end encryption for private chats and calls, and encryption in transit for business messages. The messages are not stored on Rakuten Viber's servers, so no hacker can steal them. Connections with our servers are secure and HTTPS only, push notifications do not reveal the content of your message on your customer's device lock-screen -  measures we undertake so you can rely on your Rakuten Viber experience.
Creating a business account is an important step in your mobile marketing strategy and at Rakuten Viber, we do our best to provide our customers with premiere business solutions. With Rakuten Viber for Business, you can establish your brand on one of the most popular messaging apps in the world and will start benefiting immediately with our branding, security, analytics and variety of messaging options. 
Do not hesitate to contact us and start your journey on Rakuten Viber.