Black Friday, the annual shopping extravaganza that occurs on the last Friday of November, has become a highly anticipated event for both consumers and businesses alike. With huge discounts and limited-time offers, it's a race to snag the best deals. 
In the age of digital shopping, retailers have shifted their focus to online platforms to reach a wider audience and increase sales. The following statistics show why it's crucial to embrace mobile marketing as an essential part of your Black Friday campaign:
89% of shoppers rely on their mobile devices to read product reviews before making a purchase, emphasizing the need to have a strong mobile presence.
Smartphones accounted for a substantial 74% of the total traffic on Black Friday.
Mobile shopping on Thanksgiving and Cyber Week in 2022 reached an all-time high and accounted for an impressive 55% of online sales.
One tool that has proven to be highly effective in Black Friday marketing is Rakuten Viber for Business solutions. Rakuten Viber offers a range of tools and features designed to help businesses connect with their customers, and these tools are especially relevant during this busy shopping season. From managing orders and deliveries to sending personalized alerts and announcements, Rakuten Viber for Business provides a comprehensive suite of solutions for companies to engage with their audience and drive sales.
In this blog article, we will explore the various ways in which retailers can leverage Rakuten Viber for Business solutions to step up their Black Friday marketing efforts and achieve their goals.
Achieving Black Friday Campaign Goals with Rakuten Viber Tools 
During Black Friday campaigns, businesses pursue several key goals to maximize their success and capitalize on the shopping frenzy. With the help of Rakuten Viber's diverse range of features and capabilities, businesses can effectively reach and engage their target audience, drive sales, and enhance customer satisfaction. 
Build Brand Awareness, Engage and Acquire New Customers
Rakuten Viber Ads, Stickers, and Lenses are powerful tools for brands to engage with a wide audience and leave a lasting impression that can help drive customer acquisition.
Rakuten Viber Ads allow companies to reach a vast user base and showcase their products or services. With various formats available, such as banners, videos, and native ads, brands can effectively communicate their message and capture the attention of potential clientele. By targeting specific demographics and interests, Rakuten Viber Ads ensure that the right audience is reached, improving the chances of acquiring new customers.
Branded Viber Stickers offer a unique and fun way to engage with users and increase brand visibility. On average, each sticker is shared 11 times, and over 1 billion stickers are sent every month. By creating custom stickers, you can tap into this phenomenon and establish a strong brand identity. These stickers can be shared among users, spreading the word about your Black Friday promotions and attracting new potential buyers.
Branded Viber Lenses provide an interactive and immersive brand experience for users. Brands can create augmented reality lenses that allow users to try on products virtually or visualize how they would look in their homes. This innovative feature not only captures attention but also ensures a memorable experience that can leave a lasting impression on potential customers. One of the key benefits of using Lenses is the potential for viral engagement. Users love to share their fun and creative lens captures with their friends, amplifying brand reach and visibility. Within just three months of launching globally, over 52 million lens captures were generated. You can link your chatbot with Rakuten Viber Ads, Stickers, and Lenses, guiding audiences to subscribe to the bot where you can steer them toward making a purchase.
Generate Interest and Drive Conversion
As a business, you want to make sure you reach as many customers as possible and stand out from the competition. That's where Rakuten Viber Business Messages come in, offering a powerful platform for brands to engage with their clientele directly where they are – on their smartphones. 
Business Messages enable brands to showcase their products, services, and special Black Friday deals directly to users. By leveraging eye-catching visuals and compelling copy, brands can capture the attention of potential customers and generate interest. You can include up to 1000 characters of text, images, videos, links, call-to-action buttons, and various types of files. 
Take advantage of rich media features to provide more information and showcase your offering. For example, if a client wants to see a product from a different angle, simply send them a picture. If a buyer is unsure about which product to choose from a category, send a video displaying all the options. And if a client needs specifications or wants to review warranty terms, just send them the relevant file. By using these rich media features, brands not only help customers make more informed purchase decisions but also keep them engaged and interested.
Additionally, with Rakuten Viber's business messages, you only pay for delivered messages and ensure that you achieve your goals with every resource you invest.
Improve Customer Satisfaction
As businesses gear up for the busiest shopping day of the year, it's crucial to have the right tools in place to ensure a satisfying customer experience.
During the busy Black Friday period, consumers are pressed for time and more likely to engage with brands that cater to their preferences and needs. Use Rakuten Viber's conversational features to interact with customers and help them find the perfect product. Whether it's answering their questions, providing product recommendations, or guiding them through the buying process, Business Messages allow you to offer personalized support.
Keep your customers informed about their Black Friday purchases by using transactional Business Messages. You can send order confirmations, updates on shipping status, and even tracking information. This proactive approach helps build trust and provides a seamless shopping experience.
The buyer's journey doesn't end with the purchase. With Viber Business Messages, you can offer post-sales support, address any concerns, and guide shoppers through the return or exchange process. This level of customer care helps build loyalty and encourages repeat business.
Black Friday provides a great opportunity to gather valuable insights about your customers' experiences. Use Viber Business Messages to send feedback requests to improve your products and services for future campaigns.
During the hectic Black Friday rush, it's essential to provide immediate responses to customer inquiries. With Viber Chatbots, you can be available 24/7, instantly answering questions related to promotions, availability, and more. According to HubSpot Research, 82% of consumers expect immediate responses to their sales or marketing questions. By meeting these expectations, you can build trust, engage customers, and drive sales.
Not only can our Chatbots assist with personalized shopping experiences, but they can also streamline the payment process. People can shop and make payments within the Rakuten Viber app, eliminating the need to switch between different channels.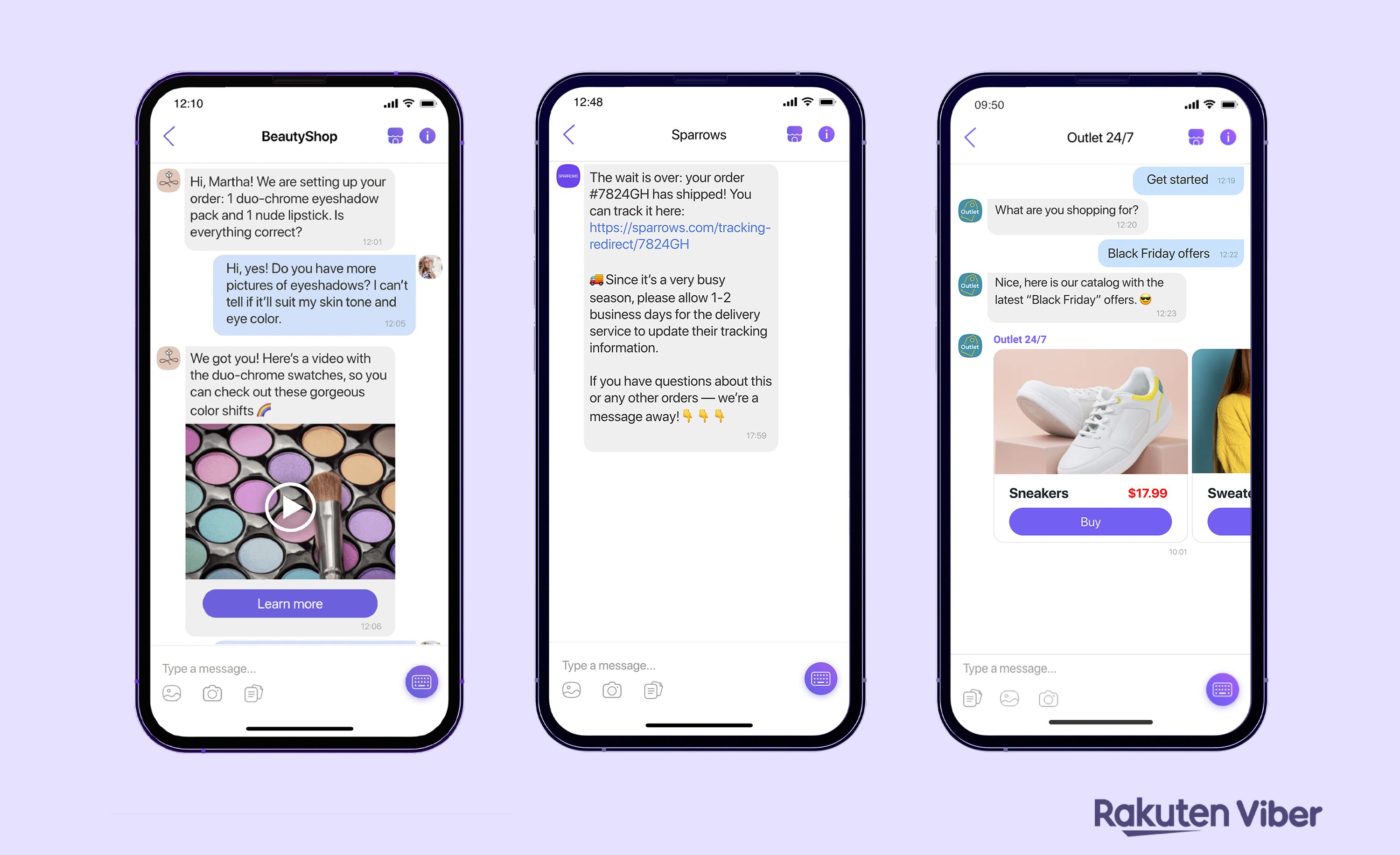 Increase Sales and Revenue
The primary goal of Black Friday campaigns is to drive sales and revenue. Businesses aim to attract customers with compelling offers, discounts, and promotions to encourage them to buy during this peak season. 
Infobip's research revealed that 54% of consumers are annoyed by impersonal messages, while 47% simply ignore messages that lack personalization. By integrating Rakuten Viber Business Messages with your CRM or CDP, you can tap into your customer database to gather valuable insights. This integration allows you to segment your audience based on their preferences, purchase history, and demographics, enabling you to deliver targeted messages that resonate with their needs and interests.
Similarly, Rakuten Viber Ads offer robust targeting capabilities. Brands have the flexibility to target specific audiences based on demographics, interests, location, and more. This level of precision enables you to reach the right consumers at the right time, prompting them to make a purchase.
Cart abandonment is a common challenge businesses face, especially during high-demand shopping events like Black Friday. With Rakuten Viber Business Messages, you can reach out to customers who abandoned their carts and provide them with personalized reminders and offers to entice them to complete their purchases. By addressing their hesitation and offering relevant incentives, you can significantly reduce cart abandonment and skyrocket your sales.
Cross-selling and upselling are valuable strategies to increase your average order value. Viber Business Messages and Viber Chatbots allow you to showcase related products, suggest complementary items, or offer exclusive discounts to encourage shoppers to add more to their carts. By strategically promoting additional products or services, you can see a surge in sales and maximize your revenue during the Black Friday frenzy.
Level Up Your Black Friday Strategy with Rakuten Viber
The holiday season is in full swing, and it's important to capitalize on every opportunity during this period, whether it's Black Friday sales, Christmas campaigns, or making the most of the 'Fifth Quarter'—the period between Christmas and late January when consumers still have a high intent to purchase with remaining cash from returned items and gift cards.
Whether you're a smaller retailer or a global retail giant, Rakuten Viber campaigns on Black Friday can help you cut through the competition, boost revenue, and make a lasting impact. With the platform's powerful targeting capabilities, you can deliver tailored offers and promotions directly to your customers' mobile devices. By integrating chatbots into your campaigns, you can provide instant customer support, automate answers to frequently asked questions, and guide shoppers through their purchase journey. This not only ensures a seamless shopping experience but also boosts brand trust and loyalty. Rakuten Viber's rich business messaging capabilities enable brands to reach their customers directly, delivering personalized offers, exclusive discounts, and timely updates on Black Friday deals. The ability to send rich media content, such as images, videos, and interactive CTA buttons, enhances the buyer's experience and increases engagement.
Feel free to contact our team to learn more about increasing your seasonal sales with Rakuten Viber.