As a retailer, you are no doubt looking for ways to boost sales and attract new traffic, be it foot traffic or online visitors. With people spending more time on mobile devices than ever before, both traditional retailers and those running e-commerce stores have been increasingly using Viber Business Messages. The beauty of this marketing channel is that retailers can connect with their customers through personalized, one-on-one communication but at the same time reach audiences at scale.
 In this blog post, you'll learn about:
3 types of Viber Business Messages that are best for retailers
Key benefits of using Viber to engage your customers and boost sales
How to open a Viber Business account
3 types of Viber Business Messages that are best for retailers
Transactional
Keep your customers updated on their order status and do it in real-time. When a purchase is made online, a buyer will receive a confirmation message informing them that their order has been placed and is on its way. Transactional messages are sent automatically based on triggers when a user performs a certain action. You can set as many triggers as you like and keep your buyers updated throughout multiple steps of the purchase journey.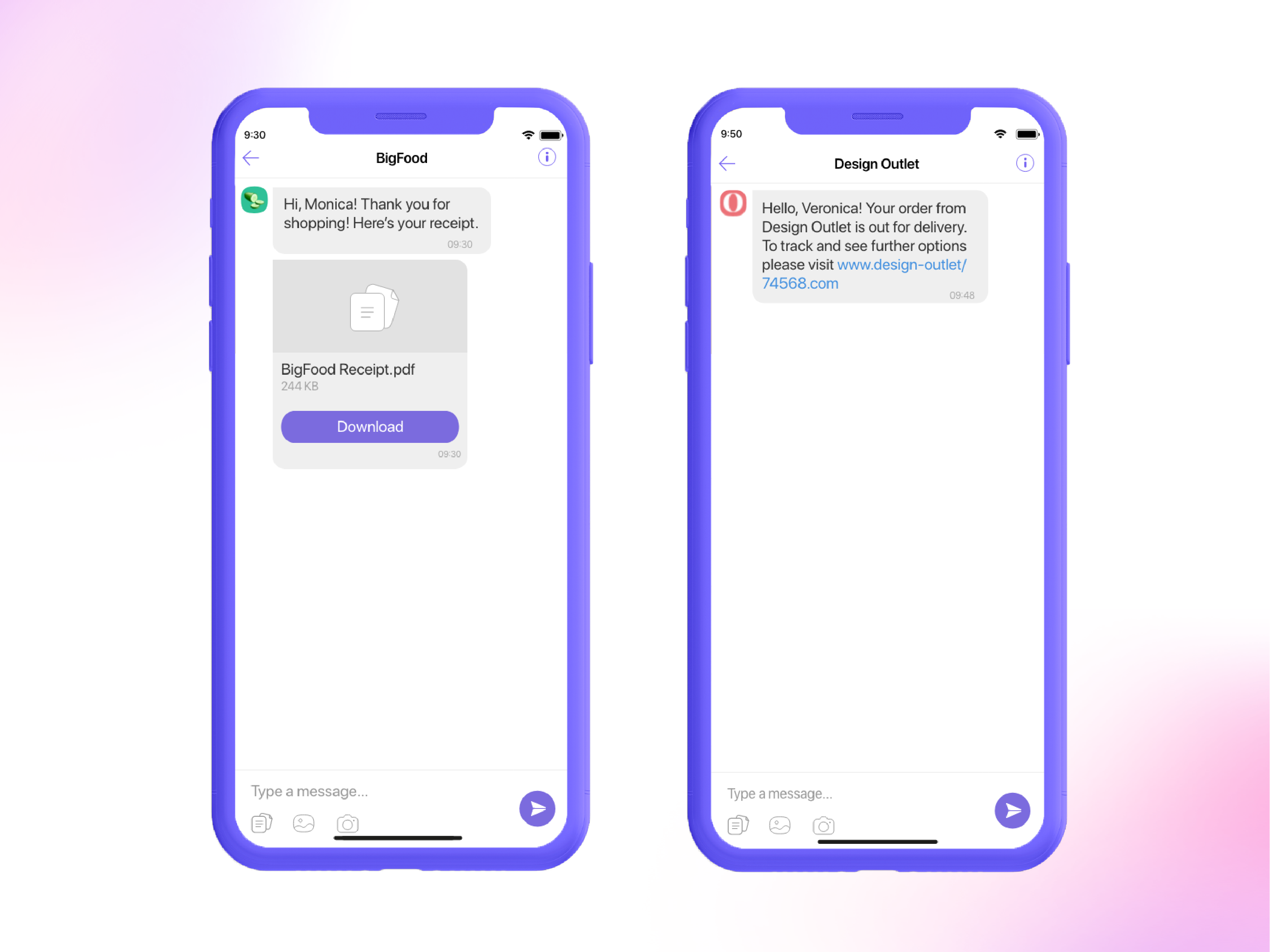 Promotional
Viber business messages are a great way to promote sales, new products, or special events. The messages are personal and can be customized to target specific groups of people—for example, those who live in a certain area or have made a purchase in the past. With Viber, retailers can send one-on-one messages as well as communicate with specific audience segments. For companies with a CDP or a CRM, Viber offers a powerful API that allows businesses to send personalized messages of any size and type tailored to each segment of the target audience, making it an ideal tool for retailers who want to reach a specific audience with their marketing messages. 
A prime example of using audience segmentation in tandem with personalized Viber business messages is QuadX, a retail logistics company that specializes in cross-border digital logistics and e-commerce payment processing. To communicate with their customers through the messaging app, QuadX works with Promotexter, Viber's official messaging partner. QuadX's ShippingCart service allows shoppers across the Philippines to receive orders from online vendors in North America and Europe. After launching their UK delivery service, QuadX wanted to increase the volume of purchases from the UK merchants; to achieve that, they segmented their audience and targeted those who had previously bought from the US sellers but hadn't yet tried the UK shipping service. Quadx then targeted this specific audience with business messages on Viber, personalized by interests. Results? 25% of those who had shopped in the US and were reached via Viber made a purchase from the UK; 187% KPI achievement with UK transactions growth reaching 300% YoY.
Another fantastic example of how Viber Business Messages can benefit a retailer comes from Comfy, a major multichannel retailer of household appliances and electronics in Ukraine. Comfy used Viber Business Messages to combine immediate reach, rich media, and compelling CTAs linking to their website or targeted actions—and solve the cart abandonment issue. Working with Viber's official messaging partner, Global Message Services, Comfy achieved a 30% higher conversion rate than with SMS—and a 10% turnover increase.
Learn more about these and other Viber for Business case studies
Conversational
The retail industry has been through a lot of changes in the past few years. With the growth of online shopping, brick-and-mortar stores have had to work harder than ever to keep up with the competition. But one area where they may have an advantage is in the realm of customer service. While online retailers have the benefit of being able to reach a larger audience, they often lack the personal touch that brick-and-mortar stores can provide. Conversely, a brick-and-mortar seller might wish to expand its audience. This is where Viber can prove invaluable for both traditional retailers and online stores. Because Viber is a messaging app that allows businesses to communicate in a more personal way, it can help retailers connect with their audiences, provide them with customer service, and launch two-way conversations, ultimately leading to increased sales, processes optimization, and improved customer relations.
Conversational messages are a powerful yet versatile tool capable of achieving multiple objectives. An excellent example of application comes from D Express, an express courier service in Serbia. They sent personalized delivery status updates using Viber Business Messages—but rather than just being a one-sided tool to inform, these messages also empowered customers giving them more control over the shipment process and communication with the brand: customers could reply directly to them to update the delivery schedule or redirect a shipment. It helped optimize both the logistics and communication, while getting 300K messages delivered and improving delivery rate by 15%.
Learn more about the types of Viber Business Messages
Key benefits of using Viber to engage your customers and boost sales
If you're in retail or e-commerce, you know the importance of customer service and how it can make or break your business. In today's fast-paced environment, people expect quick responses to their inquiries and problems. Because of Viber's popularity, with over 1 billion people using it worldwide, and the convenience of having so many features available for people within one app, it is a natural choice for retailers to engage with customers through Viber for all types of messages.
Here are some of the benefits for your retail or e-commerce business:
1. Security and reliability
For users, Viber offers end-to-end encryption, and for businesses—encryption in transit so you can be sure that your messages are always secure. With Viber Business Messages, retailers and e-tailers can communicate with customers in a secure and reliable way, ensuring that sensitive information is never compromised. Viber does not store messages on servers and uses only a secure HTTPS connection–all designed for safe communication between brands and users. At the same time, users can easily check whether the brand that is sending business messages is verified–official business accounts have a "blue tick" near their name, and official business profiles may include information about the brand, logo, address and phone number. In addition, Viber Business Solutions is highly scalable and able to support large numbers of messages and users without any slowdown. This makes it the perfect platform for retailers who need to communicate with a large number of customers on a daily basis.
2. Quick responses to customers
In the 21st century, speed is everything, and quick, immediate responses are key to company success. With Viber, you can quickly reply to customers' inquiries and address their concerns.
By increasing customer satisfaction through fast and helpful responses, you get repeat business and positive word-of-mouth. Plus, Viber's rich media capabilities allow you to send photos, videos, and other types of content to customers, making it easier and faster to solve their issues. And with Viber's advanced tech, you can automate responses to common questions.
Here are some ideas for the messages that can be automated:
Greet a new buyer with a "welcome" message and exploitation tips for newly bought products
Send a "thank you" message after they make a purchase
Follow up with those who abandon their shopping carts to remind them to complete their purchase
Inform about your latest products and promotions
Send automated messages based on the customers' interactions with your store
3. Improved customer retention
Viber offers a number of features that can help retailers improve retention. For example, you can remind them to finish their purchase and reduce cart abandonment by sending personalized discounts on added or saved products, and prevent them from going to a competitor. You can also use Viber Business Messages to send special offers and customized discounts to your most loyal customers. This will keep them engaged with your brand and encourage them to make repeat purchases.
4. More efficient customer service
By having all of your customer service communications in one place, you can save time and be more organized. Reach out to your audiences directly through their Viber app. This way, you can provide them with the information they need, when they need it, without having to wait on hold or go through a call center. Plus, Viber Business Messages is a more cost-effective solution for your business since for promotional and transactional messages you only pay for the messages delivered, and for conversational messages–per sessions.
5. Maximize the use of first-party data
As a retailer, you have a wealth of first-party data at your disposal. This data can be used to create highly personalized and targeted marketing campaigns that will resonate with your customers.
With Viber, you can reach your audiences where they are already spending a significant amount of time–on their mobile phones. Viber's rich media capabilities allow you to create engaging and visually appealing messages that will capture your customers' attention.
Best of all, you can send messages targeted by segments defined by you, so you can be sure you are connecting with the right people, the right message, at the right time, and on the right device.
How to open a Viber Business account
Setting up a Viber business account is quick and easy, and can be done in just a few steps.
Step 1. Choose a messaging partner for your business.
Step 2. Create and register your own Viber Business account.
Step 3. Receive an official "blue tick" approval from Viber and start benefiting from Viber for Business.
Read more about starting an official Viber Business account
Overall, Viber messages offer a number of benefits for retailers. They are a quick and easy way to communicate with customers, and they can help build relationships and loyalty, increase sales, and encourage repeat business.
Contact our onboarding team today to learn more and to get started