Let's take a look at Generation Z — a tech-savvy and socially aware group changing the consumer landscape. Making up 26% of the global population, these 2 billion people aged 10–25 will contribute to 48% of worldwide retail spending by 2030, making them an undeniable powerhouse. As digital natives, they are transforming shopping, brand loyalty, and customer engagement. 
This article explores the unique traits, preferences, and behaviors of Gen Z buyers and how Viber can help engage this influential group.
Gen Z Power: Revamping Marketing & Engaging with Viber
Having grown up with technology at their fingertips, Gen Z consumers have distinctive expectations and habits when interacting with brands. 
Here is an overview of their preferences and purchasing habits in 2023. They:
Expect fast and seamless services
Are optimistic about spending
Prefer to shop directly from brands, valuing eco-friendliness and ethics
Prioritize personalization and online discovery, with 40% choosing to shop online 
Consider social commerce essential, utilizing social media platforms and influencers
View in-store retail as necessary still, with 26% planning to shop in brick-and-mortar stores more often
Take into account reviews, incentives, and return policies, which influence their purchasing decisions and loyalty
Expect virtual shopping experiences and AI-powered services as they are eager to learn AI to expand their own work skill sets 
Communication with Zoomers poses challenges and opportunities for businesses, and it's important to adapt marketing strategies for this audience. Companies should address their unique preferences to build strong relationships with them and boost their loyalty. Failure to adapt may result in a declining market share.
Viber is an excellent platform for engaging these clients, thanks to its ever-evolving user-friendly features and focus on privacy. Its superapp capabilities cater to the tech-savvy generation as Viber provides targeted messages, smooth customer interactions, and personalized experiences.
Gen Z's Social Pulse: Exploring Media Habits, Shopping Preferences, and Top Platforms
Gen Zers' social media usage and preferences play a significant role in shaping their consumer behavior. 35% of them spend over two hours daily on social media, compared to 24% of millennials and 14% of baby boomers. They prefer researching and purchasing there, so companies need to tap into this trend.
Digital natives heavily rely on social networks for finding, assessing, and interacting with products and brands. About 85% of them use social media to learn about products, showing that businesses targeting them need a strong online presence. Research shows that 69% visit stores based on social media posts, and 83% trust customer reviews on social media more than traditional advertising platforms. It's also something that will likely remain a trend in the coming years, as generation Alpha, who is starting to enter the ranks of financially active consumers, also trusts influencers and peer suggestions on social media. 
To effectively communicate with this generation, marketers have to understand how they use online platforms. 
Inside Gen Z's Wallet: Thoughtful Purchases, Social Responsibility, and Reliable Earnings
Gen Zers exhibit shopping habits that set them apart from previous generations. Over 70% of them have stable sources of income, making them financially responsible and careful when it comes to spending. They save much of their earnings by investing in digital currencies or putting money into retirement accounts. 
They are known for their non-impulsive buying behavior: around 50% shop online monthly but only make purchases when necessary, and 33% look for good deals and buy things during sales. This demographic also does extensive research online before buying something. Over half of the participants in a survey stated that they mainly depend on a brand's website for product or service information, nearly 40% use online reviews, and 29% prefer social media.
Post-millennials are cost-conscious, with 90% of them comparing prices before buying. They are discerning buyers who prioritize value, quality, and ethical practices when choosing where to spend their hard-earned money.
This generation cares a lot about social issues and wants to support companies that positively impact society. They focus on the environment, equality, and justice. Organizations must be genuine in their actions and socially responsible because Gen Z can easily spot fakeness, and most of them think brands should donate to charities and promote inclusivity. 
Viber's Gen Z Formula: Targeted Messaging, Captivating Media, and Smooth Interactions
To reach this young group of consumers, enterprises can leverage Viber for Business solutions such as Viber Business Messages, Chatbots, Viber Lenses and Stickers.
Viber Business Messages
87% Gen Z want a personalized shopping experience. If your company uses a CDP, create and send tailored Viber Business Messages based on interests and preferences to achieve higher conversions and sales. Visualize your content with features like call-to-action buttons, images, and emojis to personalize messages and make your brand stand out. 
Viber Business Messages can satisfy Gen Z's need for extensive research before making a purchase. Promotional messages inform potential customers about the latest offers and special discounts, while conversational ones enable real-time interactions with customers through text, images, videos, and files. 
Transactional messages help keep Gen-Z'ers informed about their purchases, deliveries, appointments, and receive important information, such as booking confirmations and receipts, directly in chat with a brand. 
Instant support and information-sharing result in happier customers, a more seamless discovery, and greater shopping experience.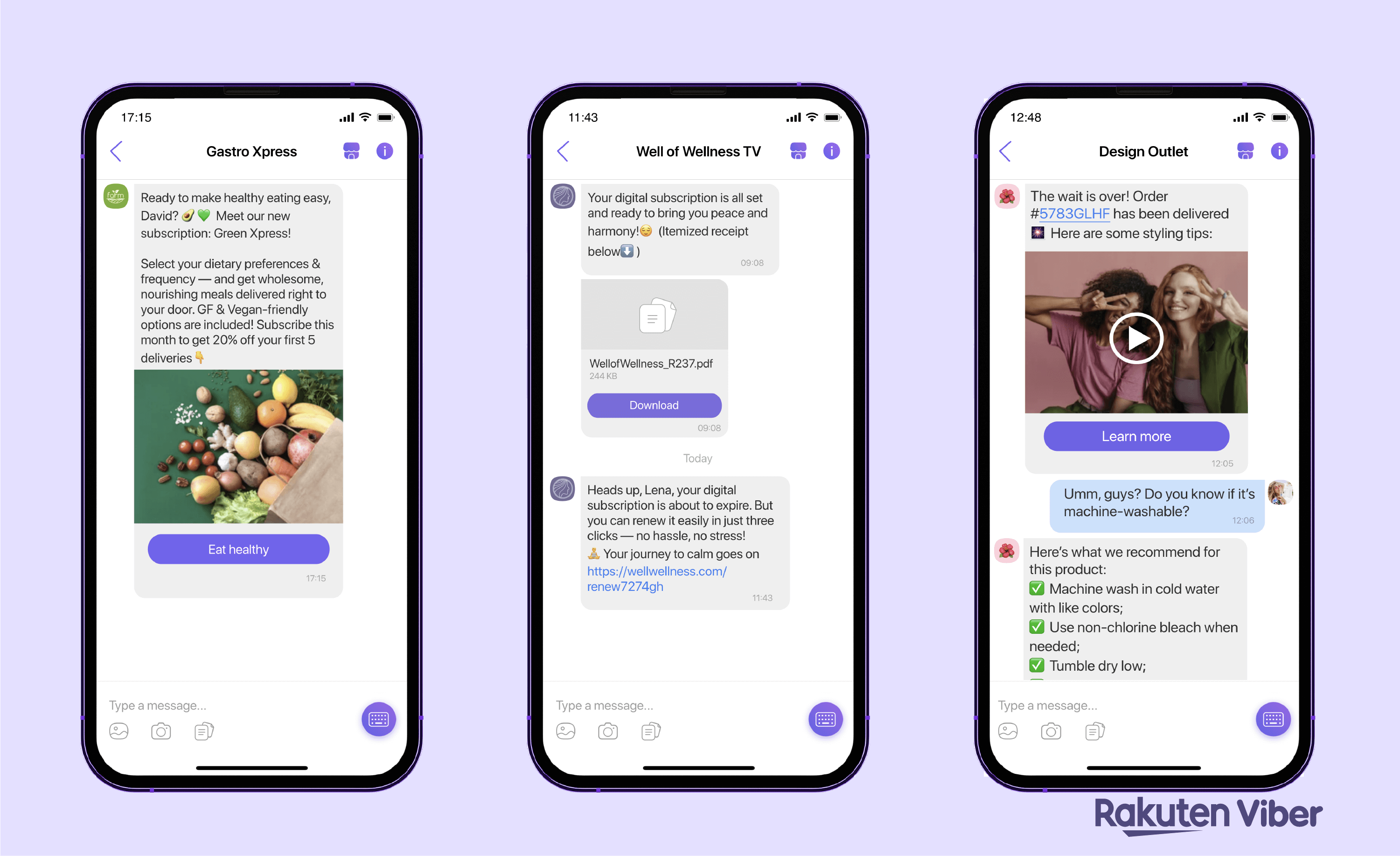 Clear Boundaries with Viber Business Inbox
Business messages go to Viber Business Inbox, a dedicated space for brand-user communications. It makes managing and accessing messages from brand accounts easier for users as the folder is at the top of the chat list by default. The Inbox helps companies get more visibility among customers who would like to interact with them, leading to higher click-through rates. Viber Business Inbox promotes user safety and trust by not allowing messages from private accounts who might impersonate the brands and is set to improve overall user experience.
24/7 Presence with Viber Chatbots
Viber Chatbots make it easy for brands to offer Zoomers efficient 24/7 service, let them shop and pay right within the app, and receive quick responses to queries – an experience that 82% of modern consumers expect. Advances in AI and machine learning technologies help create smarter chatbots that provide seamless and interactive services. The Gen Z audience will certainly appreciate effortless and intuitive interactions with brands that use AI chatbots. 
The Visual Power of Viber Lenses and Stickers
To grab iGen attention in just eight seconds or less, brands  should no doubt use Viber Lenses. This solution lets people add enjoyable AR visuals and effects to their photos and videos to express feelings or for beautification. Businesses can create unique branded Lenses for different consumer segments, especially Gen Z, which can help boost a brand engagement significantly. The lenses offer fun, interactive experiences, such as mini-games, quizzes, randomizers, and character interactions, which resonate well with this audience. 
Viber Lenses are not just fun – the tool can help address Zoomers' social concerns by raising awareness for different causes like environment, mental health, and education. By supporting important initiatives, company's branded Viber Lenses can create a caring corporate image and put your organization on a map of conscious consumers.
Companies can also create custom stickers, incorporating their branding and messaging for a fun and engaging user experience. Getting Gen Z users to share branded Viber Stickers allows сompanies to increase brand awareness and turn them into fans. 
Trust in Viber: Consistent Branding Meets Robust Protection
Zoomers tend to shop both in brick-and-mortar stores and various online shops. Omnichannel shopping is crucial for connecting with Gen Z's buying habits. Viber Business Account helps brands align how they're presented in Viber with how they look in other media. This consistency leads to smooth shopping experiences. 
The Account helps people find and access all info and communication channels of a business on the app in one place, assisting them at different stages of their customer journey. 
In terms of security, Gen Z is at a higher risk of cyber threats as they rely heavily on technology. They are less prepared to identify email phishing attempts made through emails or fake websites. Additionally, this generation is more prone to delaying required IT updates and reusing passwords for personal and work-related accounts. 
Security is incorporated in Viber's DNA and in all the features it delivers to users. End-to-end encryption is used by default for user-to-user communications, such as private chats, group chats, and private calls. Viber Business Messages are protected with encryption in transit, providing an exceptionally high level of security for brand-user communication.
Viber protects client data and privacy – it doesn't store user messages on it's servers after delivery and uses secure HTTPS connections only. All of this is designed to provide safe interactions for both users and brands.
Gen Z & Viber: A Winning Combination for Future-Proof Consumer Connections
To engage the Internet generation consumers effectively, businesses must understand and adapt to their unique preferences and habits. Viber offers various tools to help companies do just that: Viber Business Messages, Viber Chatbots, branded Viber Lenses, Stickers, and more. Companies that embrace the superapp capabilities are better positioned to build strong connections, establish trust, and secure the loyalty of Gen Z. 
So, without further ado, tap into what Viber can do for your brand.