The pharmaceutical industry is one of the most tightly regulated ones, and it's no wonder why. Its marketing in many cases is different from FMCG or retail and requires special attention from the communications teams. After all, it's not only about selling – it's about providing vital information about drugs and their effects, warning about side effects and allergic reactions, and so on.
In this article, we'd like to share how Viber Business Messages can be useful for pharma brands, both OTC (Over-The-Counter) and Rx (prescription).
Instant messaging might not seem like the top choice for pharma brands, but that's old-school thinking. Here is why.
In today's world, where customers are surrounded by marketing messages around the clock, it's more important than ever for businesses to find new ways to contact their clients and get their attention. According to Zipwhip's State of Texting report, 77% of brands that started messaging clients during the pandemic plan to continue doing so – not only is it a simple way to interact with the audience, but it is also very cost-effective.
Pharmaceutical companies are no exception – as the world becomes more and more connected, traditional methods like TV campaigns, cold calling and even emailing are becoming less and less effective. The new world demands for more modern, fast, and secure options. 
Viber is perfect for connecting with pharmaceutical brands' audiences – our platform allows instant connection with the customers, securely, and allows businesses to send messages directly to their clients' smartphones. From product information assistance to order processing, Viber is an obvious choice for companies that want to bond with their audience and provide them with the best possible service. 
Types of Viber Business Messages and Getting Started
There are several types of Viber Business Messages, each with its own purpose. 
Transactional Viber Business Messages are one of the most popular types of Viber business messages. This type is most often used to send notifications about order status, delivery updates, booking confirmations, stock and refill alerts, etc.
Conversational Viber Business Messages are a two-way communication tool that allows you to have a dialogue with your customers. It's a great way to build rapport with your audience – customers can respond and influence the direction of the conversation, making for a truly engaging experience.
Promotional messages are the perfect way to introduce new products, specials, or discounts. They're also a great way to keep customers up-to-date on the latest company news.
In addition to the business messages, Viber chatbots are a popular solution with pharmaceutical companies. With our chatbots, you can reach your customers directly, provide important information and updates, and even sell products straight through the app when allowed by local laws.
Getting started with Viber business messaging is easy. Learn how to start a business messaging campaign, what the benefits are and how to set up and optimize your business messaging campaigns. 
Discover Commercial Accounts for brand-user interaction on Viber
A powerful marketing tool that allows pharmaceutical companies to reach clients directly in their native environment – their phones, Viber is trusted by brands all over the world, including companies like World Health Organization, Pharm24, FACEmed, and Dr. Max. When it comes to the key demographic, our superapp is very popular with young adults and solvent customers in the 25-50 age range who are attracted to its features and user-friendly interface.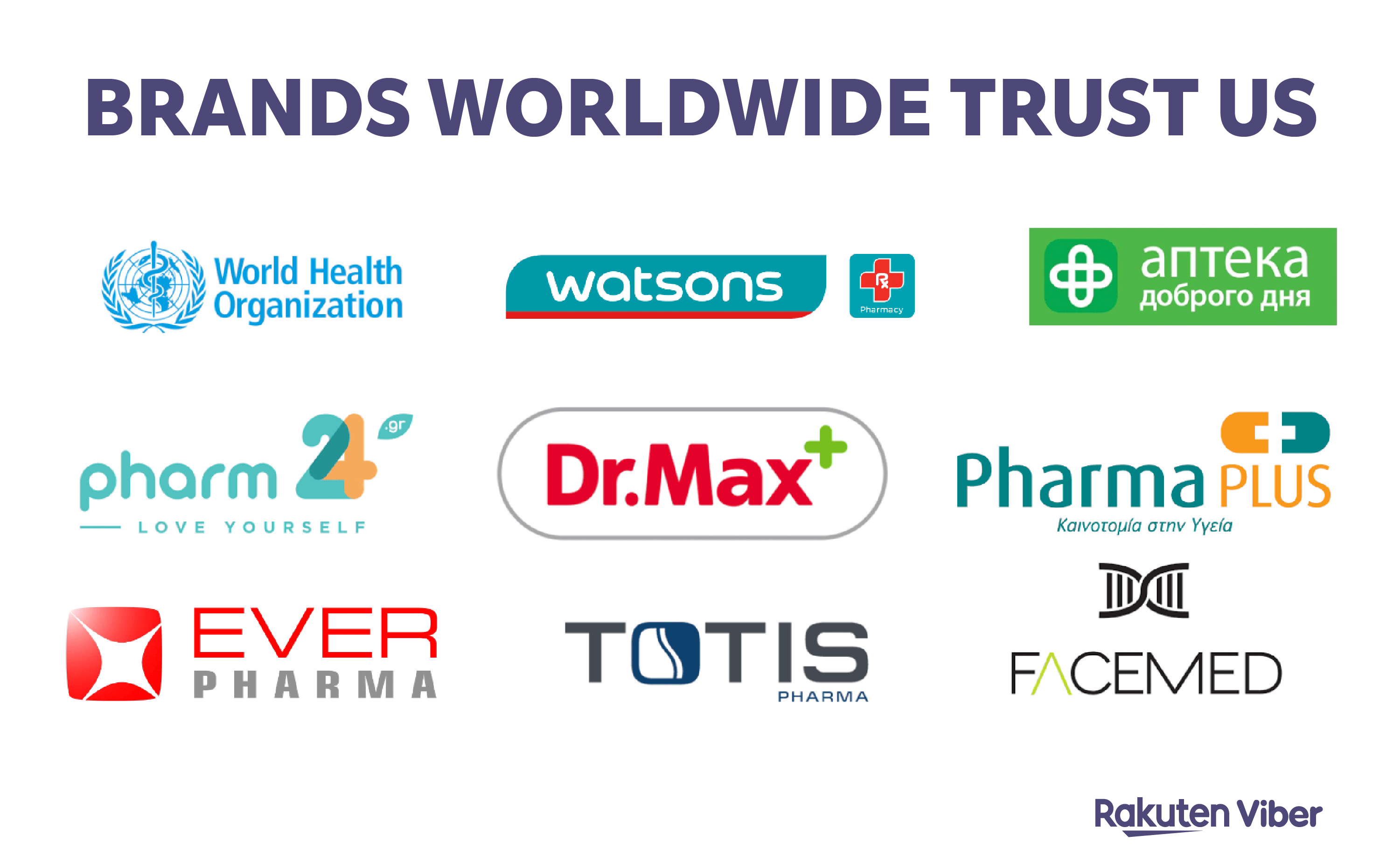 Some features and ideas: how pharmaceutical companies can use Viber
Send and receive messages, photos, videos, and documents securely and conveniently, regardless of where your customers are. Besides, you can target your audience and share information with customers in just a few simple steps. 
Send messages to large (or small) audience segments with just a few clicks. And it's not just about the reach. You have a greater chance of your message being seen and opened since your customers already use Viber to chat with their friends and family.
Viber offers brands a more personal way to connect with their audience by allowing them to communicate directly. Whether it's a special discount or an update about new products, you will be able to create a sense of community and loyalty among buyers, as they can interact with you on a new level.
Create content that is customized and tailored to specific groups of people, making it easy to reach an audience segment. Relevance is important, especially in pharmaceutical marketing. This is especially beneficial for brands that have first-party data.
Viber can help you gather customer reviews, which can be used to improve your services and to make sure that people are satisfied with the products they receive from you. By doing so, you can provide your clientele with an easy and convenient way to reach out and voice their concerns or suggestions. Additionally, you can use the platform to send out surveys or polls to collect customer feedback on specific medications (subject to local regulations).
Create OTPs (One-time passwords)
This way, your customers can use Viber to confirm their identity without having to provide their personal phone numbers.
Answer frequently asked questions
Answer questions about drug interactions, side effects, or dosage. With Viber, you can automatically send your clients accurate and up-to-date information. This way, they will get the details they need without having to wait on hold or speak to a representative. 
Send updates on the latest offerings, new products, and services
Ensure that your clients are aware of any new developments that may be of interest to them. Share special offers and discounts. Use Viber to provide your clients with promo codes and price cuts through private messages, or group chats for customers. Or you can create a separate channel or group chat specifically for promotions and discounts. 
Deliver an official confirmation of the order
Send messages to your customers with the details regarding their order and its delivery, or when the package is ready for pick-up, if you are selling directly.
Schedule messages with reminders about upcoming appointments so your clients can plan accordingly, or share information about new medications in stock.
Maximize your message with AR (Augmented Reality)
Pharma brands can send images with detailed information on how to take a medicine, what symptoms it helps with, and even share videos explaining the use of a certain drug. 
Viber Business Messages: A Game-Changer for the Pharmaceutical Industry
Viber has over 1 billion Android downloads and is available in 190+ countries and 44 languages. Besides, it is a cost-effective way to communicate with your buyers, regardless of where they are in the world, as you pay for delivered messages only. 
Viber offers a secure, compliant messaging solution that can be used to communicate with buyers and healthcare professionals. The app uses end-to-end encryption by default for private, group chats and private calls, and encryption in transit for Business Messages. Besides this, Viber doesn't sell customer information — to anyone, ever. This way, your clients will always feel safe and protected when interacting with you. 
Plus, some of its features can be customized specifically for the pharmaceutical industry and are a great multipurpose tool that can improve your performance, regardless of the goals you set.
In this article, we talked about the business messages, but many brands also rely on Viber for its advertising solutions. Viber's rich media capabilities allow you to share visually engaging content with your audience, while native ads are a great way to get people's attention and get them interested in your brand and products.