In today's highly connected world, the continuous growth of mobile communication and messaging has changed how people interact with one another. Traditional methods like phone calls and emails are no longer the only ways to engage with customers. The popularity of mobile messaging has led to a shift in business communication – according to Data Reportal, 94.8% of people use chat and messaging, with more than half of their Internet time spent on mobile devices.
This blog post explores mobile messaging marketing by looking at Rakuten Viber, a feature-packed example of this emerging trend. Let's explore how the app is transforming the way businesses establish and strengthen connections with their audiences in the digital era.
Mobile Messaging Marketing: The New Opportunities for Businesses
Mobile messaging marketing stands out as a powerful, yet sometimes still overlooked, tool for companies aiming to boost their customer engagement. It helps businesses talk directly to the users in a personal way without spending much, and leads to more sales and better relationships.
There are multiple benefits, such as:
Direct communication between businesses and customers, delivering timely information and offers.
High open rates making text messages more effective than emails for communication.
Personalized messaging for different audience segments.
Cost-effectiveness in comparison with other marketing channels while being suitable for businesses of all sizes.
Rapid results — quick customer responses and faster conversions.
Connecting through messaging can create really personal and engaging experiences. As a result, more and more companies are embracing messaging tools, realizing the huge potential they offer. The question brands must ask is not, "Should we integrate such a tool in our marketing?" but "Which one is the best choice for my business?"
Rakuten Viber as a SuperApp: The All-Inclusive Solution
Rakuten Viber, an easy-to-use gateway for lots of services with rich superapp features, may be just what you need. By smoothly connecting various capabilities, it gives both users and companies an integrated platform, making the entire experience easier and enjoyable for everyone. In Rakuten Viber, users can do the following:
Order food
Get a taxi
Pay bills
Get help from customer support
Shop and make purchases within the app
And so much more.
Let's take a look at Rakuten Viber's solutions for companies.
Rakuten Viber for Business: Toolbox for Success
Rakuten Viber for Business allows brands to build convenient communication with users. To provide personalized and engaging content to their customers, organizations can leverage:
This toolset can help strengthen brand loyalty and increase customer satisfaction, keeping your clients coming back for more.
On top of that, businesses can see how their marketing campaigns are performing in real time. By analyzing user behavior, engagement levels, and sales rates, companies can fine-tune their strategies for the biggest impact and the highest returns. 
With Rakuten Viber, you'll have access to a complete system that creates seamless brand-user interactions at every step of the customer journey.
Intelligent Marketing
Having explored the individual features, here is just one of the examples of how they can seamlessly work together in a comprehensive 360-degree campaign:
Capture attention with Rakuten Viber branded Lenses, Ads, or Stickers.
Add a link and lead customers to subscribe to your Chatbot where they can learn about your products and seamlessly create their first order.
Connect with your database via Business Messages, provide support, collect feedback, and ensure that customers will come back for more.
With Rakuten Viber's toolkit, brands can ensure a consistent and captivating experience across all touchpoints, boost customer satisfaction, and truly succeed in today's competitive digital world. 
Discover how foodpanda used Rakuten Viber Ads, Stickers, and a Chatbot to enhance brand awareness and customer experience
Check out how Coca-Cola leveraged Rakuten Viber Stickers, Chatbot, and an interactive game to create an engaging Easter marketing campaign: 
Payments on Rakuten Viber: The Future of Streamlined Payments 
Another major feature is payments on Rakuten Viber. First fully launched in Greece and Germany in December 2022 and recently opened for Cyprus, it is being gradually rolled out in other markets. Payments on Rakuten Viber lets users create a digital wallet and transfer money to peers right within the app, removing the need to use multiple banking or money-sending applications. 
Rakuten Viber is working on adding new features to its payment solution that will benefit brands, such as: 
Payments to merchants within the app. This will simplify the payment process by accommodating a wide array of user requirements, and delivering a one-stop solution on a user-friendly platform.
Exclusive discounts and rewards as the cherry on top. These incentives allow people to get exclusive discounts and special offers from their favorite brands.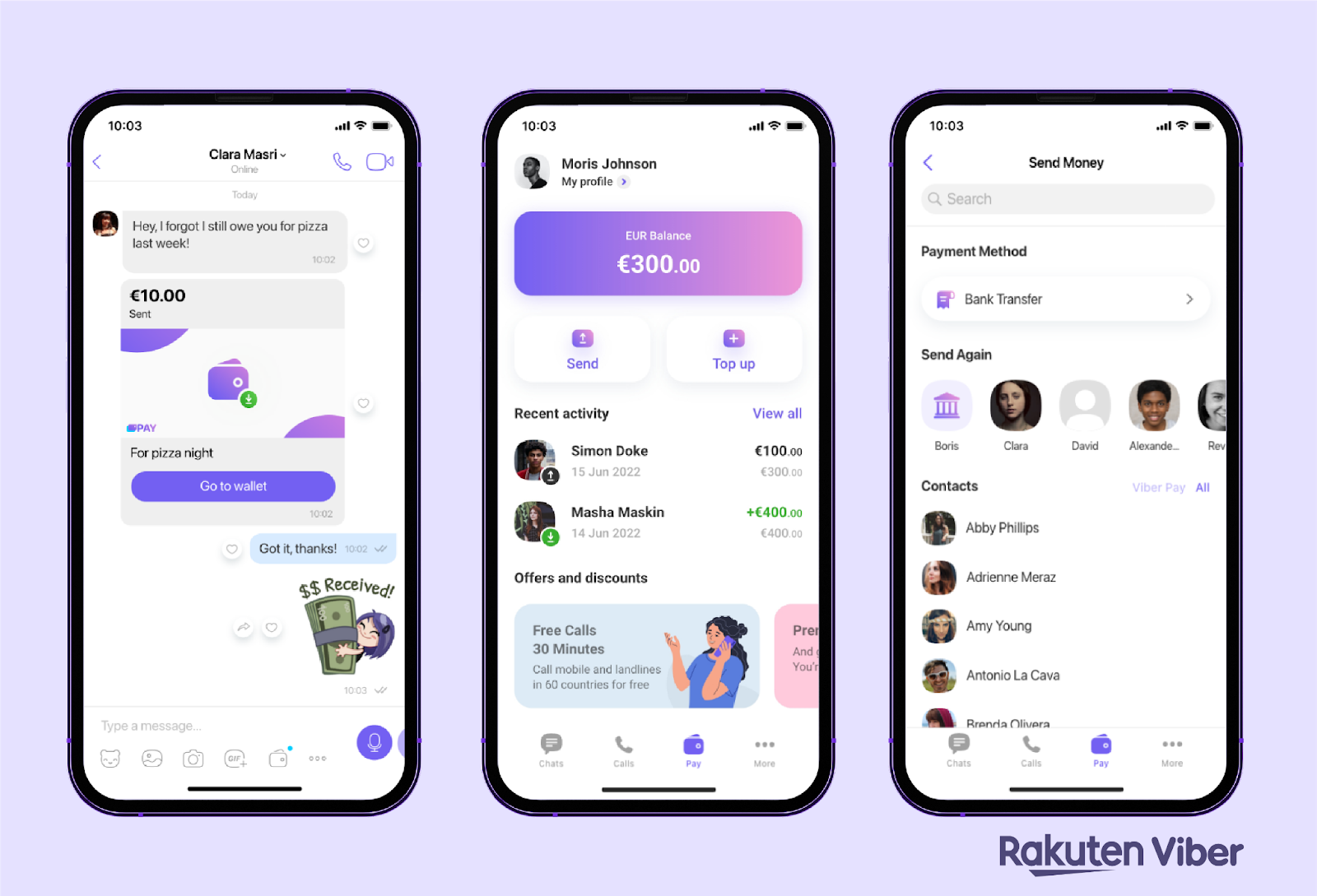 The trend of using mobile messaging for marketing transforms how businesses talk to their customers and creates fresh opportunities for brand-user interaction. With mobile messaging becoming more popular, Rakuten Viber's multifaceted marketing toolbox puts it at the forefront of this trend.
If you have any questions or need assistance leveraging Rakuten Viber's solutions for your business, don't hesitate to reach out – we're here to help you make the most of mobile messaging.