In the past decade, an important change has taken place in the way people communicate. In fact, with the rise of messaging apps, the word "conversation" almost became a synonym for "chat." Messaging apps have been some of the most popular apps worldwide and are used for a variety of purposes. See part 1 of the "Superapp for Marketers" series, "What is a Superapp?"
Viber has played a major role in this change in communication, and has become a superapp with a wide range of features, including text messaging, voice and video calls, stickers, AR lenses, bots, and a recent introduction of the new fintech service - Viber Pay. Trusted by users in many countries, especially in Eastern Europe and Asia, today Viber is available in more than 190 countries and 44 languages, and is popular for its ease of use, reliability, and security.
Here are some important numbers for companies that are making a decision about the use of Viber in their marketing mix. Viber's TOP countries include (based on % of all smartphone users per country):
Besides, 78% of Viber's customers are in the 18-50 age range which is considered as a "payable" audience, and the audience is equally split between men and women (53% and 47%, respectively). 94% of our clients use the app on their smartphones - 78% on Android and 22% on iOS.
At every step of the customer journey
As a superapp, we provide users with a one-stop-shop experience, connecting them with the brands they love in a simple, convenient, and reliable way. Viber's massive reach, combined with its large user base and world-class security and privacy features, makes it the perfect platform for brands to interact with customers.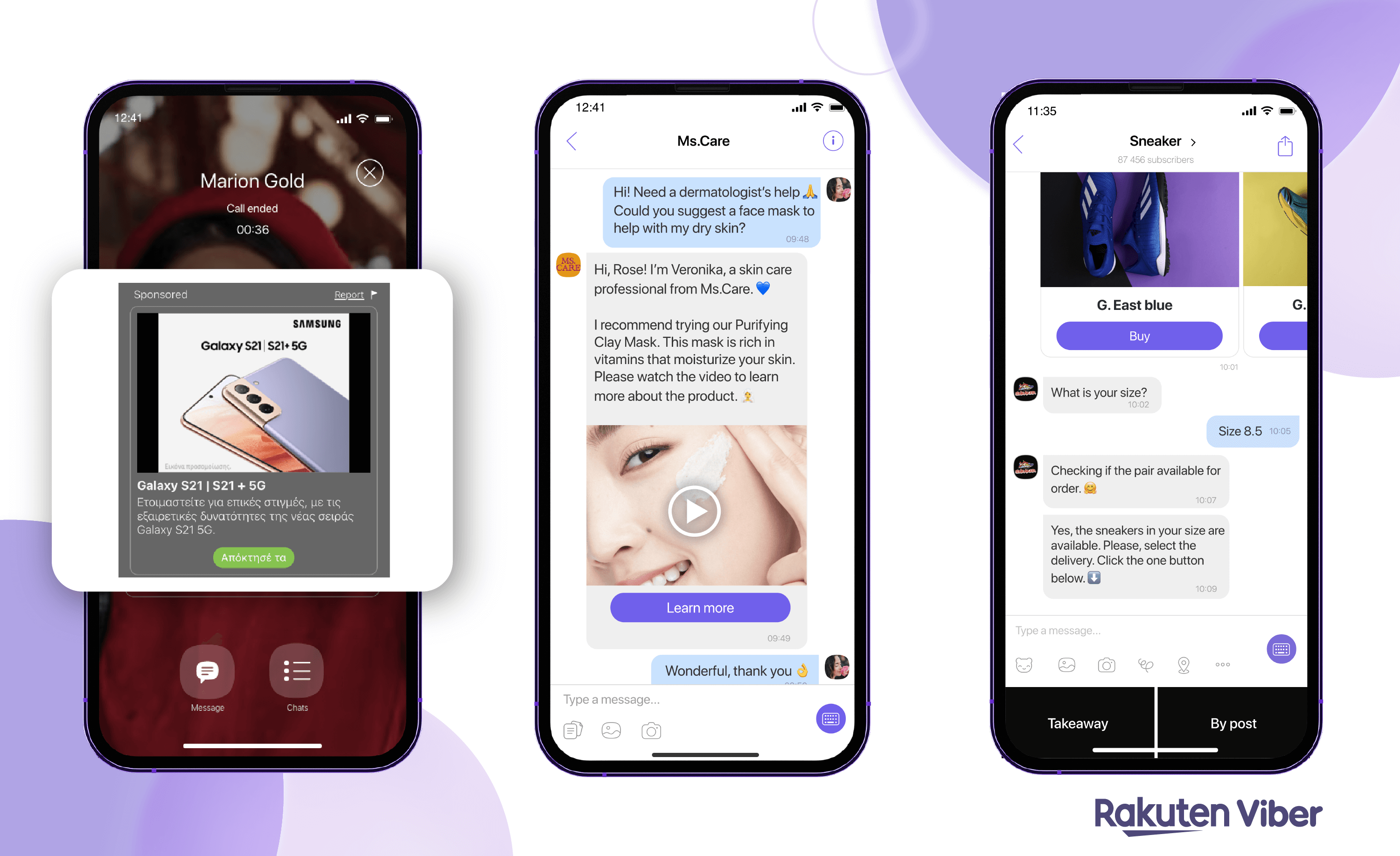 Viber for Business is the go-to solution for companies of all sizes that want to improve their customer service and sales operations, no matter the stage of the funnel. Viber offers a powerful set of features for sales and marketing teams, including integrated CRM solutions and marketing automation tools. Besides, we provide a suite of tools to help brands streamline customer interactions, including live chats and automated customer support via chatbots. 
Learn more about Viber offerings for business clients:
And when it comes to creativity and content, there is nothing better than Viber Lenses. With this multimedia tool, you can create an engaging brand image, raise awareness, and, of course, make your campaigns more fun and interactive. Viber's integrated augmented reality (AR) technology lets people add decorative elements to their photos and videos, creating an engaging experience that can be shared with friends and loved ones privatly or publicly. You can now also use Branded Viber Lenses to engage the audience to subscribe to your chatbot or a channel. Branded Lenses a great way to capture attention of your existing and potential customers, especially among Gen Z users, unleash your creativity and make your content stand out.
Another powerful content marketing tool is Viber Stickers. Every month, our users send over 1 billion of them, so be sure to add your own branded sticker pack! This way, you can represent your brand in a fun and engaging way. Plus, it's a great opportunity to get your company name out there and build up recognition. 
Besides being a great creative instrument, Viber is excelent for performance marketers and allows brands to achieve various campaign goals, including acquisition, retention, and revenue generation. The possibilities are endless – whether you want to personalize your business messages for every potential customer, reduce cart abandonment, or trigger a repeat purchase, Viber is the perfect tool to do so. 
Your marketing goals are within reach - let's get started!
Official Account in Viber
Please make it as easy as possible for your customers to reach you and to know more about you. To be able to do that, you need an Official Business Account on Viber – you can have a dedicated company number and profile and will get access to all of Viber's business features that will help you send all types of messages you may want to send. And with Viber's API, you can integrate your Viber account into your existing customer support tools. 
How to open a Viber Business Account
What About Payments?
Fintech is a vital part of the superapp concept. The ability for users to place orders within the app is crucial for brands that want to provide their clients with a seamless experience. When it comes to Viber, we offer our users and partners such services as chatbot payments, P2P money transfers, and many more. But that's not all. Viber Pay is the easiest way for customers to send money to each other via Viber or to make a bank transfer. With it, users can make payments as easily as sending a message. Plus, it's secure and quick.
Viber Pay (launched first in Germany and Greece in July 2022 via waitlist and being gradually opened to all) allows people to set up a digital wallet directly within our app, so they don't have to switch to another one. Besides this, we give brands an opportunity to offer special deals to their customers when they use our new tool. Viber partners with leaders in retail, fashion, electronics, and other markets to create unique offers for users of all ages and interests; that's why they choose us. In the upcoming future, more brands will be able to receive payments from their clients via our app. If your business wants to become part of Viber Pay's loyalty program, contact our team now.
Take Your Marketing To The Next Level
Viber has the power to connect brands and users across countries, languages, and cultures, making it a truly global solution. The superapp has the superpower to keep people engaged with the content they love – and that means to engage with brands that matter to them.
A global leader in messaging communication and a superapp, Viber has become a go-to platform where people come to connect with family, friends, and colleagues. We are excited to see how companies use this unique opportunity to connect with their users, and we're proud to be able to offer them this powerful marketing tool.
With us, you can build brand awareness, influence customer consideration, and drive conversions in a few simple steps. Our branded stickers and lenses, Viber Ads, Business Messages, and Chatbots help businesses to connect with their audience in a more personal and engaging way. From customer service and support to marketing and sales, we provide the instruments and features businesses need to create a seamless customer experience.